Please also check the "breeding" section for more on Thoroughbreds
Blood Horses: Notes of a Sportswriter's Son
by John Jeremiah Sullivan
Hardcover, 2005, Farrar Strauss Giroux, 261 pages, indexed, like-new, flap price-clipped
A refuge from the literary side of publishing takes off on a walkabout to learn what his father saw in horseracing. Along the way, he delves into the answers to questions about horses than most racetrackers would never think to ask. But I'm glad he did and you will be, too. $4 plus post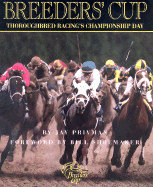 Breeders Cup: Thoroughbred Racing's Championship Day
by Jay Privman
Foreword by Bill Shoemaker
Huge! Hardcover! approx 208 pages. Published in 2000, this was a brand new copy that was damaged at a trade show, meaning that there is a tiny snag at the top edge of the page. It's a complete history of the first 15 years of the Breeders Cup with huge photos and memories. Horses like Cigar, Lure, Bayakoa, Lady's Secret, Black Tie Affair, and my favorite, Personal Ensign. They're all here. Forever on your coffee table, just like my copy is on mine. Was $40, this slightly shopworn copy $20 plus post...assuming I can find a box big enough!
Funny Cide
by the Funny Cide Team with Sally Jenkins
Hardcover, Putnam, 2004, new
They were ten working-class men, and all they wanted was to win a race.They had no business being there. They were up against million-dollar horses owned by patricians and oilmen and Arab sheiks and Hollywood producers. But there they were and we were all there with them, it seemed, on that big yellow schoolbus rolling from Triple Crown race to Triple Crown race. Relive that glorious year, or read about it for the first time. It's fun both ways! $5 plus post.
A Glossary of French Bloodstock Terminology
by Mary-Louise Kearney
Softcover, saddle-wired, JA Allen, 1981, 48 pages, new
Parlez-vous cheval? Beautiful and elegant little book translates everything Thoroughred-ish and breeder-ish. Much more than a translation guide, however! This quite rare and refined little volume covers pedigrees, physical identification, sales, diseses, documents, personell, racing colors, better, racing itself, gaits, training, track records, track condition, etc. etc. Did you know that if an owner has two horses in a race, the jockey of the second horse (which in the USA would get an "A" number) wears a scarf? I told you this was an elegant book, in more ways than one, plus little things like that are written out in English. At the breeding farm, the teaser stallion is "
le souffler
" and the mare isn't just bred, she is said to have "
accepter l'etalon
". Love this book! Give it a good home! $12 plus post.
Horse Fever
by Bill Murray
Hardcover, 1976, 206 pages
He's a great writer and he's always been obsessed with Thoroughbred racing. The New Yorker may get read after the Daily Racing Form on Bill Murray's desk in the morning! Lots of insights to the jockeys of his day--Johnny Longden, Bill Shoemaker, Eddie Arcaro. I was surprised to find Barry Irwin (of Team Valor, owner of 2011 Kentucky Derby winner Animal Kingdom) in this book. Lots of insight to the glory that was California horse racing around the time of Secretariat. It was a world apart, and William Murray captured it in this book. This is a used copy but appears unread. The white dust jacket has some spots on it, but I think this is otherwise "new". $4 plus post.
Lightning in a Jar: Catching Racing Fever (A Thoroughbred Owner's Guide)
by W. Cothran Campbell (i.e. "Cot Campbell")
Hardcover, Eclipse Press, 2000, first edition, lightly used.
Remember Summer Squall? Storm Song? Dogwood Partnership? Sure you do. Here's the story of how one man managed to get a lot of people excited about horse racing, keep them exciting, ride that excitement to the top and win some of America's legendary Grade One stakes. If one he could help us now. But racing was in trouble in the 1980s, too. Read just how much trouble, and how highs and lows are nothing new, in this great book! Highly recommended. $5 plus post.
My Racing Heart:
The Passionate World of Thoroughbreds and the Track
by Nan Mooney
Harper Collins, 2002, first edition, hardcover.
Last one, new. Will include a clipped review from the NY Times Book Review. Like-new condition, a little shelfwear but crispy clean. Nan explores her genetic inclination to follow the races and be observant and savvy. Very well-written. Lots about Longacres. Loved the last chapter on the future of racing and her insightful descriptions of woman vets at the track. She ends the book observing a horseshoer at Belmont. Great cover photo! Several copies left, half price: $6 plus post.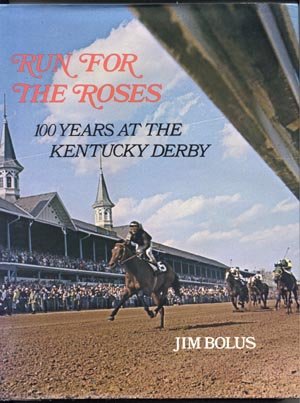 Run for the Roses: 100 Years at the Kentucky Derby


by Jim Bolus
Hardcover with dust jacket, coffee-table size, 209 pages, 1974
Oh, what a great book! Full of archival photos of people and horses. A whole chapter on Silky Sullivan! And one on Canonero II! Great coverage of Swaps and Nashua. And of course it all ends with Secretariat winning the 99th Kentucky Derby. This book is printed on high quality paper. The old photos just shine. It's a treasure but I only need one copy, so this one is for sale. $10 plus post.
The Thoroughbred World

by Walter D. Osborne
Hardcover, used, 181 pages, oversized, many photographs, no dust jacket, 1971
A luscious look at American Thoroughbred racing on the night before Secretariat. They had no idea what was about to hit them! (Not to mention the rise of Florida as a breeding and training state) Lots of history here, you can see that the old world of Thoroughbred racing knew changes were coming. It's all laid out here; they just didn't know where they going. A great read, great reference. $10 plus post.
Seabiscuit, An American Legend




by Laura Hillenbrand


Softcover, 399 pages plus readers's guide for book groups, indexed. 2001. Large format softcover.
Here's a very nice copy of the bestseller, a dream of a book to while away a long flight or a lazy vacation. Possibly the best biography of a horse ever written. Seabiscuit was an icon of the Depression. Find out how and why he captured America's heart. $3 plus post.
Three Strides Before the Wire: The Dark and Beautiful World of Horse Racing
by Elizabeth Mitchell
Hardcover, Hyperion, 2002, first edition, new
Of course you remember Charismatic and his fateful breakdown in the 1999 Belmont Stakes? Reporter Elizabeth Mitchell certainly does; she uses Charismatic to introduce her readers to the mysterious, mercurial world of horse racing. Mitchell traces this horse's amazing and ultimately tragic story, from the birth of a foal through its surprising rise to fame. Mitchell also follows the major players in Charismatic's life, including the family who bred him, the trainer, the owners, and the famed jockey Chris Antley, whose own story is more tragic than that of his horse. Through these interlocking stories a sense of familiarity with the key players in the industry evolves, as well as a greater understanding of the heart and soul of a sport that has fascinated human beings for centuries.
New, half price $13.50. A very good read!
TO PLACE YOUR ORDER:
POSTAGE IN USA: First book $5, each additional book $2.
Go to your PayPal account, if you have one set up, choose "send money" and send total amount of your order to franjurga@gmail.com (fill in on PayPal form). Supply your email and/or phone for order confirmation.
Or: call in or email your order and we'll charge your Visa or Mastercard.