by James Herriot, Illustrated by Ruth Brown. Hardcover.
This cow is something else. She's not about to be sent to market and she fools the vet and her owner. One of Herriot's heartwarming tales showcased for children who will love the independent nature of his cow. It's a classic. Book is ex-library with stamps and stickers, but you'll love it anyway. $2 plus post.
Gift from a Sheep:
The Story of How Wool Is Made
by Alberta and Nicole Eiseman
Hardcover, beautifully illustrated, 52 pages
A great book! A teen-ish girl learns from her neighbor's sheep and wool operation. Jenny raises a lamb; shears it; cards, spins, washes, and dyes the wool into yarn; knits a poncho; and wins prizes for her spinning and knitting at the county fair. Includes directions for making the poncho. $5 plus post.
Mr Buzz the Beeman
by Allen Ahlberg, Illustrated by Faith Jacques
Hardcover, 1981, color illustrations
The bees are swarming! What a great way to teach children that honey bees are important to our farms and to a lot of the food we eat. Mr Buzz goes chasing after a swarm from one of his hives and everyone in town is concerned. They all join in with him to chase the bees and bring them home. You have to love it. $2 plus post.
by James Herriot, Illustrated by Peter Barrett. Softcover.
I am always hesitant to list these Herriot books under "children" because these are his memoirs, written for adults, but illustrated and set up sort of like children's books. The art is lovely, and the border collie is the perfect subject for any great story of the countryside, isn't it? If you love sheepdog trials, or just sheepdogs, or just dogs...this is a great story. $2 post post.
The Rising Arrow
by Hughie Call
Hardcover, Viking Press, 1955
More sheep, more collies. A classic of the 1950s. Two young boys go with their mother to live with a sheepherding uncle on a ranch near Yellowstone while his father is away reporting on the war in Korea. Tenderly told, includes horses. No dust jacket, a used copy. $3 plus post.
The Sea Dog
by Arthur C. Bartlett
Hardcover, 1927, probably first edition
What's a Staffordshire terrier doing on board a fishing schooner off Canada's Maritime Provinces? Pieface was a courageous dog both on land and sea. This is special. Still has the original full-color beautifully illustrated jacket, though it's quite beat up on the edges. It's a painting of a Staffordshire (what I'd call it, anyway) on deck, fantastic, in the period style. I just like looking at the cover. $10 plus post.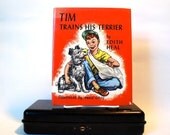 Tim Trains His Terrier
by Edith Heal
Hardcover, 1962, Albert Whitman Publ, ex-library, fantastic!
Just one of those brilliant kids' books with like-real people and like-real dogs. They make it through basic obedience school so what would they do next? Put on a show! But what are terriers good at? Teaches kids that all dogs are special and that hard work should be rewarded, but that things don't always come easily. Fantastic illustrations circa 1960! $2 plus post
TO PLACE YOUR ORDER:
POSTAGE IN USA: First book $5, each additional book $2.
Go to your PayPal account, if you have one set up, choose "send money" and send total amount of your order to franjurga@gmail.com (fill in on PayPal form). Supply your email and/or phone for order confirmation.
Or: call in or email your order and we'll charge your Visa or Mastercard.